Windows users might encounter the following  error message that suggests there is a problem with the TAP Adapter that is used by OpenVPN  on their Windows operating system:
Wed Jul 06 15:33:40 2016 All TAP Windows adapters on this system are currently in use.
Wed Jul 06 15:33:40 2016 Exiting due to fatal error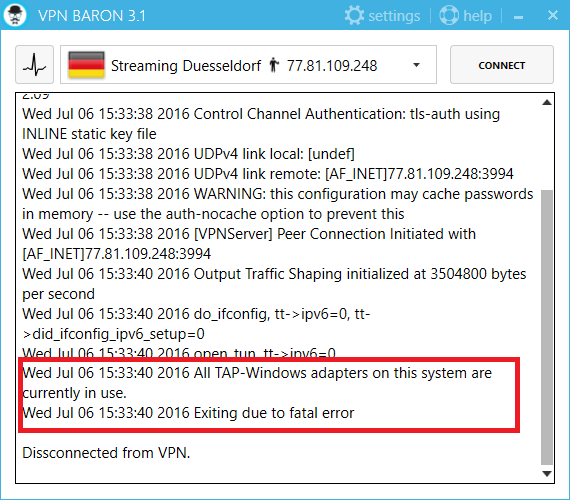 1. Disabling and enabling the TAP adapters
A quick fix will be to disable and enable the Tap windows Adapter from the control panel when you get this issue. To get there follow the steps bellow.
1. Right click the WiFi icon.
2. Select Open Network and Sharing Center
3. Change adapter settings.
4. Find the Tap Windows adapter and right click it.
5. Select Disable, wait a few seconds.
6. Right click it again and select enable.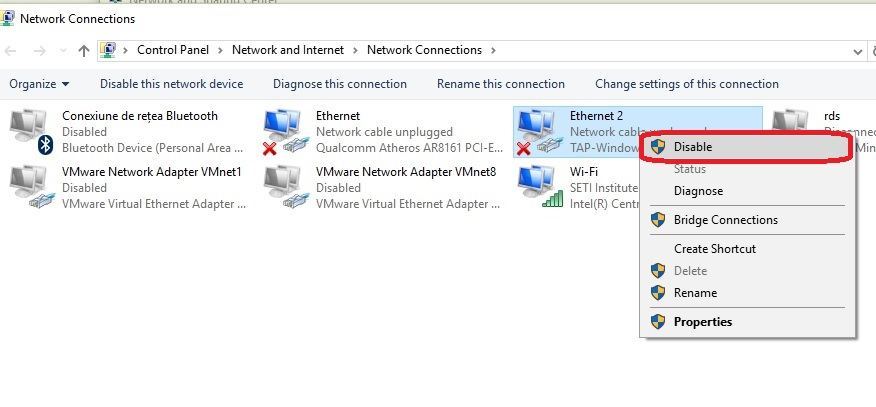 2. Reinstalling the Tap Windows Adapter driver
If the issue comes up again, reinstalling the TAP driver might fix it for the long term. Please be sure to check if the TAP driver is already installed by checking  C:\Program Files\TAP-Windows  and then proceed with the following steps.
1. Go to Control Panel\Programs\Programs and Features and Uninstall TAP-WINDOWS
2. Download Tap Installer (NDIS 6) from the OpenVPN repository  https://openvpn.net/index.php/open-source/downloads.html  (here is the direct link for the latest version at the time of writing this guide https://swupdate.openvpn.org/community/releases/tap-windows-9.21.2.exe )
3. Run VPNBaron as administrator and connect.

[cta id='425′]